Driving Efficiency and Working Smarter in Arts Centres and Theatres - Norwich Puppet Theatre
Join an exclusive gathering of arts leaders at Norwich Puppet Theatre, for an afternoon of knowledge sharing and best practice
- sponsored by Yesplan.
Register now
An afternoon Seminar at Norwich Puppet Theatre
The challenges facing today's arts centres are considerable.
As venues are challenged by funding cuts and the draw of an ever widening variety of entertainment platforms to attract people's discretionary spend, we look at how efficiency can help you to free up more time to be creative and drive additional revenue. During this free to attend session you'll hear from expert speakers on these challenges and how arts organisations are working to address them with practical solutions.
Places are strictly limited to 30 people so make sure you book early.
What can you expect?
1.00 PM Coffee and Networking
1.30 PM Welcome to Norwich Puppet Theatre and set the scene
1.40 PM 21st Century Challenges to Cultural Centres - Keynote Speaker Roger Tomlinson
2.10 PM What can we learn from Airlines? - Speaker Andrew Thomas
2.40 PM Short break
3.00 PM Instinct vs Insight: Working towards a Data Driven Culture - Speaker Ellie Griffiths
3.30 PM Case Study: Thriving on Change - Looking at tools and techniques to adapt to the ever-changing funding landscape - Speaker Peta Swindall
4.00 PM Q&A
4.30 PM Drinks and Networking

Meet our expert speakers!
Keynote speaker Roger Tomlinson


Roger will map out what he sees as the biggest threats and greatest opportunities for Arts Centres and Theatres in the coming years.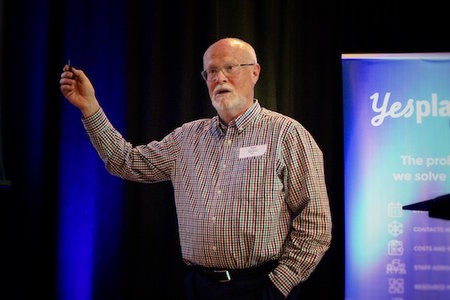 Now "mostly retired" Roger has over 45 years experience of the arts and entertainment industry, starting out as an arts marketer and then a CEO and producer, before an international career as an arts management consultant. He formed TheTicketingInstitute.com and the Functionality Builder to enable more rigorous procurement practices.
Roger is particularly interested in the way digital technologies are changing the ways people can relate to arts organisations and how they can develop audiences and increase attendances. He is regarded as one of the world's leading experts on integrated ticketing solutions, helping design and develop or on procuring on-line technologies for ticketing and marketing, working internationally. He's been rewarded with a Lifetime Achievement Award from INTIX.
Nowadays, Roger chairs the Centre for Performance Research and is a Board member of The Audience Agency.
- Twitter: @BrandinyourHand and @TicketingInst.