Sustainability, Accessibility & Efficiency in Arts Centres and Theatre
Join a host of arts centre and theatre managers at the Sheffield Theatres for an afternoon of knowledge sharing and best practice
- sponsored by Yesplan.
Register now
An Afternoon Seminar at Sheffield Theatres
The challenges facing today's arts centres are considerable.
Striving for greater accessibility and inclusion, coupled with the need for efficiency savings, as well as environmental and business sustainability to name but a few.
During this free to attend session you'll hear from expert speakers on not just these challenges but also some of the solutions venues such as Sheffield Theatres and others have found.
In addition to hearing from industry figures, you'll also be able to see behind the scenes at Sheffield Theatres on some of their improvements, to their physical and technical infrastructure.
What can you expect?
1:00 PM Coffee and Networking
1:30 PM Welcome to the Sheffield Theatres and set the scene
1:40 PM 21st Century Challenges to Cultural Centres - Keynote Speaker Roger Tomlinson
2:10 PM Speaker 1
2:30 PM Venue Tour
3:00 PM Speaker 2
3:20 PM Speaker 3
3:50 PM Speaker 4
4:10 PM Panel Discussion
4:30 PM Drinks/ Mingle
Meet our expert speakers!
Keynote Speaker Roger Tomlinson
Roger will map out what he sees as the biggest threats and greatest opportunities for Arts Centres and Theatres in the coming years.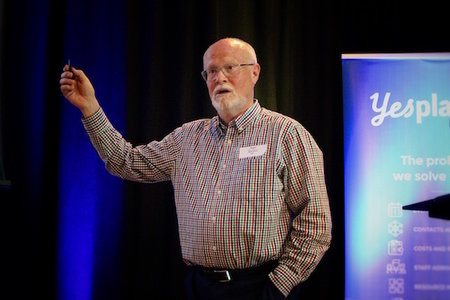 Now "mostly retired" Roger has over 45 years experience of the arts and entertainment industry, starting out as an arts marketer and then a CEO and producer, before an international career as an arts management consultant. He formed TheTicketingInstitute.com and the Functionality Builder to enable more rigorous procurement practices.
Roger is particularly interested in the way digital technologies are changing the ways people can relate to arts organisations and how they can develop audiences and increase attendances. He is regarded as one of the world's leading experts on integrated ticketing solutions, helping design and develop or on procuring on-line technologies for ticketing and marketing, working internationally. He's been rewarded with a Lifetime Achievement Award from INTIX.
Nowadays, Roger chairs the Centre for Performance Research and is a Board member of The Audience Agency.
- Twitter: @BrandinyourHand and @TicketingInst.
Reserve your space now and make sure you're the first to hear our speakers as they are confirmed.